What do Queen Elizabeth I, Queen Victoria, Queen Elizabeth II, Lady Hale and Kate Middleton have in common? They are all women powerhouses who carry brooches with style. The queen is rarely seen in public without a brooch pinned to her brightly coloured coats and dresses. It is the perfect accessory to add that finishing touch to her elegant & classic style. Ever wondered why ? Let's have a brief historic look at the humble brooch. A brooch is a piece of jewellery that is worn on clothing, attached via a pin that either clasp or stud shuts or simply pins in. The new generation of women who consider jewellery as more than just bling are beginning to now shed new light on these adornments of the past.
Types of brooches:
Bar brooch:
These are a type of pin brooch and are perhaps the most readily available due to their easy to use fastening. Once attached to the wearer's lapel, the brooch pin hooks through a looped fastening.
Pendant brooch:
These are versatile pieces of jewellery, designed to be easily transformed from a necklace into a brooch. They often feature concealed bales on the reverse, so that a chain can be subtly attached. Similarly, the pin will often be completely invisible from the front of the pendant, often hidden behind the design.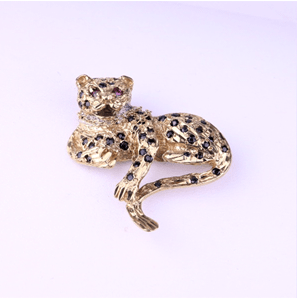 Portrait brooch:
In the 18th century, miniature portrait painting was a genteel past time. Painted on ivory, porcelain, shell or mother of pearl, these delicate portraits were often commissioned by the subject themselves or a close family member. They would have been worn to secure a shawl or scarf, or perhaps at the base of a neckline.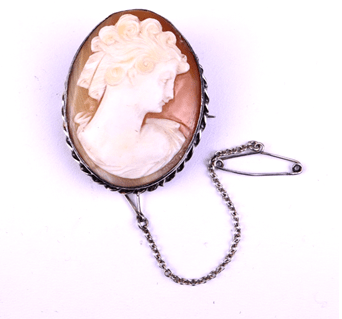 Foliate brooch:
These are traditionally decorated with leaves or floral motifs. These stunning brooches are often worn to signify friendship or love. In the 19th century, forget-me-nots were a popular flower seen in many different items of jewellery – often embellished with turquoise.
Enamel brooch:
Enameling is the process of fusing powdered glass to metal, allowing craftspeople to create stunning colored designs without the overuse of gemstones. The process of enameling dates back thousands of years with evidence of the process found in archaeological remains of Ancient Greece.
Why brooches?
They were originally functional items intended to secure pieces of cloth to the wearer but today they are regarded as items of adornment to accentuate an outfit The oldest brooches date back to the bronze age, made with thorns and flint and later with metal. It was not until the 3rd century that they took on a more decorative purpose- men to fashion scarf or shall or accessorize an outfit. They are available in a large number ranging from occasional wear to regular wear.
Why should you own one?
If you are wondering how to style your favorite yet slightly tired clothes to your office party this Christmas, a brooch would be the best to fancy the attire with a touch of trend following it. It is never an old-fashioned accessory, it is eternally fashionable to pair with any kind of clothes.
Which is the best brooch for you to start with?
They are available in different shapes and styles to adorn the attire.
A simple one that is minimal would go with any kind of casual wear and the one that has precious stones or made of precious metals can be paired with occasional wear or party wear. Hence, they are selected based upon the occasion and purpose. If you are going to a party, a glittering, colourful one can add a flash of colour and draw the eye to your brooch – it can be the focal point of your outfit.
While on a casual occasion, might seem dramatic but, in fact, it can be fun and quirky. Pin a stylish brooch to your t-shirt or sweater. Just make sure that the pattern of the clothes isn't too busy or hectic that the brooch gets lost in it. It is best to pin it onto a block colour. A good pick would make you stand out in the crowd.
How to style a brooch?
Brooches are seen more regularly on catwalks and red carpets these days either worn in the hair, on the neckline, pinned to the waist of a dress or scattered over all sorts of jackets. They have also returned to jewellery collections by famous names such as Chanel, Boucheron, Chaumet and Chopard but they are also once again, on the mind  of collectors who are seeking out antique brooches of all styles.
I guess you might have got the answer to the first question of the Queen wearing brooches. They are not only an elegant outfit adornment but also a jewel that descends from royal history.
To style with the best brooch click on the following link: Brooch